What is Home Automation?
Listed as one of today's fastest-growing lifestyle trends, home automation is also referred to as "Smart Home" technology. A customized touch screen controls lighting, HVAC (heating, ventilation, and airconditioning), multi-room music, and security systems.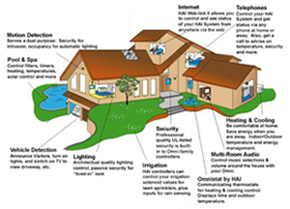 What is a "Smart" Home
Your automated or "smart" home can adjust your security, music, air, and lighting automatically for comfort, energy savings, and convenience. Access, change, and monitor your system from the internet or telephone.
Your system can notify you when your children have arrived home from school or if an alarm has been tripped. Check your home from your office PC, PDA, or web-enabled phone. It's easily upgradeable and will allow you to add features at a later date.
With the smart home you can control your entire home at your fingertips with convenience and ease.
• Press a single button to turn off the lights, lower thermostats, and arm the security system on the way
out or when retiring for the night.
• Adjust room lighting for reading, watching TV or entertaining.
• Light a dark hallway when motion is sensed
• Check security cameras from any TV in the house
• Call from anywhere to check the status of your home or adjust lights and temperature.
• Discover carbon monoxide leaks, freezing conditions or water problems.

Home automation is for everyone and has a myriad of applications.
• Luxury Lifestyle - The whole house can be wired up to give you instant access and control of practically any devices in your home. These include A/V equipment, lighting, air-con, curtain/ blinds, security/CCTV, spa, auto-gate, pool, sprinklers, etc. · Energy Savings - Electric bills go down when lights are automatically turned off when a person leaves the room, and rooms can be cooled or heated based on the surrounding temperature and who's there at any given moment. Home automation can track how much energy each appliance is using and command it to use less.

• Convenience - At the touch of a button in the master bedroom, the owner can activate his security system, turn off all unused air-cons and lighting, and locks his main gate, ensuring a good and peaceful night sleep.

• Children - The TV's power supply can be program to cut off at specific time of the day and ensure your child don't spend all their time in front of the TV while you are at work. Lights in a child's bedroom can be turn on by remote control for children too young to reach the wall switch. Similarly, lights can come on automatically when your child walks into the bathroom.

• Elderly and Disabled - The ability to turn on/off lights when visiting the bathroom or turning in for the night is a great benefit for the elderly and disabled. A strategically placed keypad for them to control commonly-used devices with 1-touch operation saves time and offers a higher level of comfort and convenience.

• Security - When the whole family is about to leave for a holiday, a touch on the wall-mounted touch-screen will activate all security, alarm and CCTV in and around your home. You can even have certain lights and your TV turn on at specific time of the day to give the impression that the house is occupied.

• Home automation also facilitates the monitoring of your young children while you are at work. It can also activate any of your security devices when you are away from home via a PC or cell phone.


Lighting Control Systems
What is lighting control?
Eliminate the time and energy wasted going around the house turning lights on and off. With the touch of one button, an automated lighting system can turn on all lights, turn off all lights, or create a designated "scene".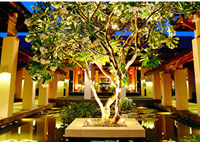 Example #1: Press one "Entertain" button
1. Turn on selected lights in the Kitchen, Dining Room, Living Room and Family Room when entertaining guests.
2. The same button may also set that festive mood by automatically turning on the whole house music system.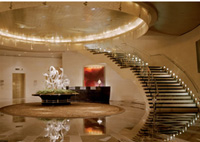 Example #2: Press one "Goodnight" button
1. Turn off selected lights without waking the entire house
2. Dim hallway lights in case the kids need you or in the event of
that midnight snack attack
3. Set thermostats to conserve energy
4. Silence the music system
5. Security system is armed and ready to protect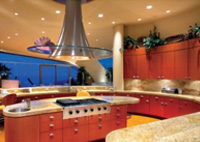 Example #3: Press one "Good Morning" button
1. Slowly open the bedroom drapes
2. Turn on bathroom lights to a pre-selected level
3. Turn off exterior lights
4. Set thermostats for a comfortable morning
5. Security system is disarmed
6. Enjoy listening to your favorite CD, news, weather or traffic.