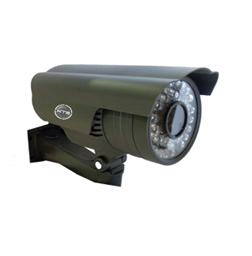 Bullet Cameras
PixCam
The Pixcam has a precise circuit and structure that incorporates the highest technology on aluminum housing, that seals the entire body from water damage, and a sunshield protector for outdoor use to prevent corrosion.
This camera can easily follow and capture targets on a length of 45-60 FT, with an excellent image and resolution.
Features include:
• 1/3'' Digital Pixel System (DPS)
• 540 TVL Super High Resolution
• Wide Dynamic Range Pixim Technology
• Automatic Gain Control (AGC)
• Automatic Backlight Compensation (BLC)
• Auto-iris Varifocal 4-9 mm Lens
• Weather Proof Housing – IP66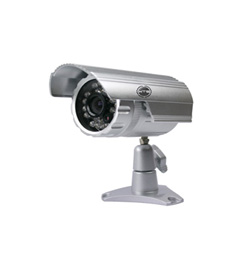 NiteCam
Night Vision Camera with IR Lights that allows the user to have a good quality and defined image. It has a special feature of Anti-flareDouble Glass , which will prevent any type of vandalism to affect the cameras vision.
The aluminum design on this camera is very strong and is weather proof also. This type of camera in any outdoor setting will allow our customers to receive a medium resolution night image.features include:
• 1/3'' Sony CCD
• Medium Horizontal Resolution 420TVL
• 24 IR Lights
• Automatic Gain Control and Automatic White Balance
• Weather proof Housing, IP66
• Strong Aluminum Case for outdoor use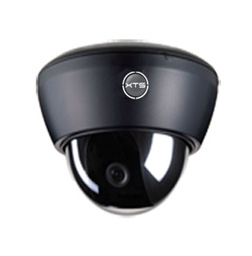 Mini Dome Cameras
SkyView
Mini Dome Series integrates a medium resolution camera with a Fixed lens in a discrete and compact enclosure. These domes can be easily installed either on ceilings or walls and they have a manual pan/tilt adjustment.
The stylish appearance of this camera allows it to be a perfect camera for any type of indoor environment. It has a resolution of 420 TVL, color camera with low light sensitivity and 4-9mm Vari-focal. The combination of these three key factors makes this model an ideal security dome that will deliver sharp images even in low light settings.
Features include:
• 1/3'' Sony CCD, Next Chip DSP
• Backlight Compensation
• Verfi-Focal Lense 4-9mm
• Automatic Gain Control
• Automatic White Balance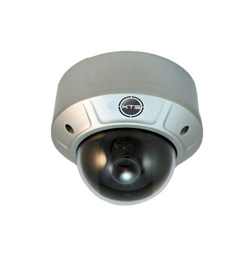 PixCam
The Pixcam Mini Dome integrates a high resolution camera with an auto-iris vari-focal lens in a rugged but discrete and compact enclosure with a high impact resistant bubble. They also have a manual 3 Axis pan/tilt adjustment that allows the domes to be rotated in a 360 degree pan, 360 degree rotation and a 140 degree tilt approximately.
The stylish appearance allows it to be a perfect camera for any type of harsh environments, indoor/outdoor, where loitering or vandalism can occur.
It also includes the much desired wide dynamic view which allows the camera to capture images accurately even when High illumination contrast are combined into the scene. Ideal for Lobby applications, ATM's and Hall applications.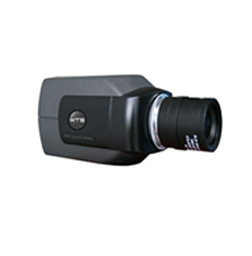 Box Cameras
StylePro
The stylepro box camera is a Super high resolution, high sensitivity digital camera with 540 TVL. The camera includes Sony's latest generation of 1/3'' CCD imagers, accepts DC and video drive auto iris lenses, and has adjustable back focus to accommodate C or CS lenses.
Features include:
Two color balance settings, permanent gain control, digital signal processing, automatic back light compensation and electronic iris.s quick and easy to install, its distinctive design is ideal for use in confined spaces and It has a quick-connect for power and BNC video connections.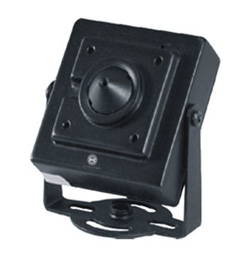 CompactCam
The compactcam is the perfect solution for surveillance in concealed or high risk places. This Compact Color Camera has 420 TVL and uses a 1/4'' Sony CCD Sensor that achieves a perfect image on any environment.
It has an exquisite design, using aluminum structure and precise circuit, also featuring the wimble pinhole lens of 3.6mm. this Compact Color Camera is the best choice for systems set up on buses, ATM's, Government facilities and much more.
The design and size allows users to hide this camera from public eye, putting this camera as an essential tool for high-tech security systems.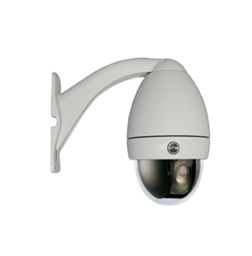 PTZ Cameras
Guardian II
Guardian II PTZ Speed Dome with enhanced features. This new speed dome camera addresses demanding security applications by combining 10X optical zoom with high resolution of 540 TV lines. More than 11 protocols have been programmed in the internal firmware to provide the widest compatibility with different cctv vendors, and can be easily installed in new or existing video systems.
Several housing options are available and permit the installation of the domes in a range of applications.
Features include:
• 1/4'' Sony EXview HAD Image Sensor
• High Horizontal Resolution 540 TVL
• 120X Zoom ratio, 10X Optical, 12X Digital
• Up to 24 Privacy Zones Masking
• 128 Presets
• 1 Scan and 1 Preset Tours
• Multi-protocol ( 11 Protocols)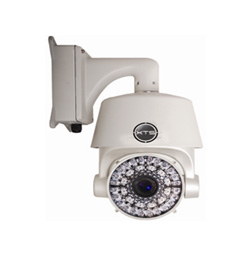 Guardian
The Guardian is a High Resolution Dome camera and belongs to the Guardian Series II. It takes performance to a higher level with a 26x Optical Zoom combined with an 12x Digital zoom for even clearer and sharper images. Its low sensitivity and high tech Cut Filter allows the dome to operate superbly in both Day and Night settings in outdoor installations as well as in indoor environments where the dome is expected to function perfectly even in extreme low light settings.
Features include:
• 1/4'' SONY Exview HAD CCD
• 26X optical zoom and 12X digital zoom
• High resolution of 540 TV Line
• IR Distance: 120-150m
• Manual speed 0.01°~120°/S, preset speed 120°/S
• 255 preset positions
• 4 pattern tour with 180s memory
• 8 cruising tracks, each cruising track has 32 preset positions
• 8 groups of auto scan
• 8 Privacy Zones
• Outdoor wall mount housing