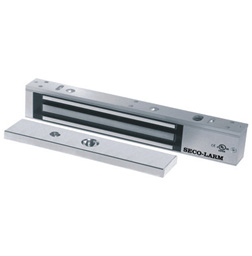 Electromagnetic lock
Anodized aluminum housing (US 28)
• 12 or 24 VDC (selectable)
• No residual magnetism
• Adjustable mounting bracket
• MOV surge protection
• Detachable face plate
• UL and ULC listed
• CE listed.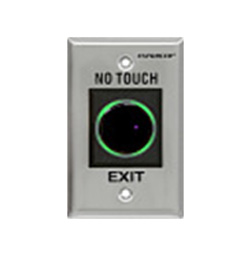 No Touch Request-to-Exit Sensor
The ENFORCER "No Touch" Request-To-Exit Sensor uses IR technology to request egress from a protected area or activate a device with the simple wave of a hand. Since it requires no touch, this sensor is ideal for use in hospitals, clinics, labs, cleanrooms (to reduce the risk of contamination), schools, factories, or offices.
• No Touch -- just wave a hand in front of sensor.
• Sensing range up to 4" (10cm). (Range for SD-927PWCQ is up to 2" (5 cm))
• Reliable IR technology senses motion.
• No touch reduces the risk of cross-contamination.
• Stainless steel or white plastic single gang plate.
• 3A relay, triggers min. 0.5 sec. or as long as hand is near the sensor
• LED illuminated sensor area for easy identification.
• LED changes color to show the relay is triggered.
• Quick-connect screwless terminal block.










Electric door strike for metal & wood doors
• Field-programmable in just seconds for fail-secure or fail-safe applications.
• Can be used on virtually any cylindrical door locking system.
• Use of an optional digital keypad with the unit assures high security without the need for a key.
• Suitable for office-type applications.
• Symmetrical-sized. Reversible for right-hand or left-hand doors.
• Shallow design for use with most metal doors.
• Powered by a solenoid, not a buzzer coil.
• Stainless steel lip (keeper) for strength and long life.
• Non-polarized connection. Wires can be reversed.
• CE approved.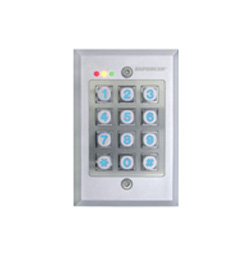 Outdoor access control keypads
• Suitable for flush-mount applications. Fits conveniently in back box.
• Relay can be programmed for momentary (1~999 seconds) or latch.
• Code flexibility: Each code can be 4~8 digits long.
• Egress input for exiting the protected premises
mMantrap: For a protected area with 2 doors, this feature allows only 1 door to be open at any time. All features are programmed directly from the keypad, eliminating the need for an external programmer.
• Duress output: Signals a silent alarm if an authorized user is forced to open the door under duress.
• Door-hold-open mode available. • Auto or manual code entry checking:
• Auto: No # key required after each code.
• Manual: # key must be pressed after every code.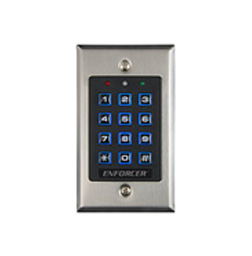 • 120 unique 4-8 digit codes, 111,110,000 possible user code combinations.
• Stainless-steel face, durable and attractive.
• Easily delete individual codes.
• Programmable lockout or duress output after 5-10 unsuccessful attempts to key in code.
• Programmable output relay activation buzzer.
• Relay output inhibit control.
• Auto or manual code entry checking:
• Auto mode: No # key required after each code.
• Manual mode: # key must be pressed after every code.
• Egress input: Lets users exit the protected premises without keying in the code.
• EEPROM memory: Prevents data loss.
• Power: 12~24V AC/DC.
• Backlit Keyboard is easy to use at night.
• Alarm output: Trigger an optional alarm control panel if a protected door is forced open.
• Door auto relock.
• Keypad active output: Activates for 10 seconds when any key
on the keypad is pressed to trigger a video recorder, turn on a
light or signal a guard.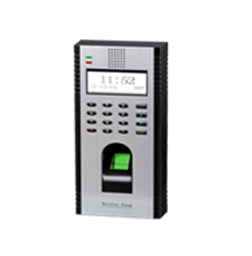 Fingerprint Reader
One touch is all it takes to access control with ZK software's biometric reader that offers flexibilityto be installed standalone or with any third party panel that supports 26-bit Wiegand.Fast,reliable performance combined with affordability gives the ZK reader the competitive edge.some festures include:
• Fingerprint reader with durable and highly accurate ZK optical sensor
• 1-touch 1-second employee recognition
• Capacity to store 2200 template and 50000 transactions
• No need to enter PINs
• Supports 50 time zones, 5 groups and 10 unlock combinations
• Tamper-proofs switch and alarm outputs
• Request-to-exit and alarm contacts
• Operates stand-alone without a computer
• TCP/IP, serial and Wiegand interfaces
• Real-time 1-touch data export to 3rd party hosted & non-hosted
applications
• Audio-Visual indications for acceptance & rejection of valid and
invalid fingerprints
• SDK available for OEM customers and software developers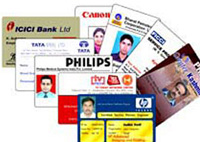 • Control access to facilities, restricted areas or parking structures
• Grant logical access to networks, databases and other IT systems
• Track assets, inventory, and time and attendance
• Build your brand and strengthen employee relationships .
Click Here
for more information